Have you ever wondered where your closest dental surgery is? Our dental clinic in Greenslopes is easily accessible to all in the surrounding areas, and whether you have a dental emergency or looking at treatment under the child dental benefits schedule, our friendly team is here to help.
We offer a range of dental services the entire family can access – we know that your oral health is important to your overall health.
Smile Makeover
Did you know that bad oral health can affect your smile? Often when we have damaged teeth or teeth that don't look their best, we lose confidence in ourselves and therefore in our smile.
Your smile is important – it shows people how you are feeling and how open you are. In a workplace, it can be important to pop on a smile when you greet new clients or customers.
Whether you are in sales or a stay-at-home parent, if your damaged teeth are hurting your smile confidence, we can set you right again.
Road Dental Services
At Road Dental, we offer a range of dental services including: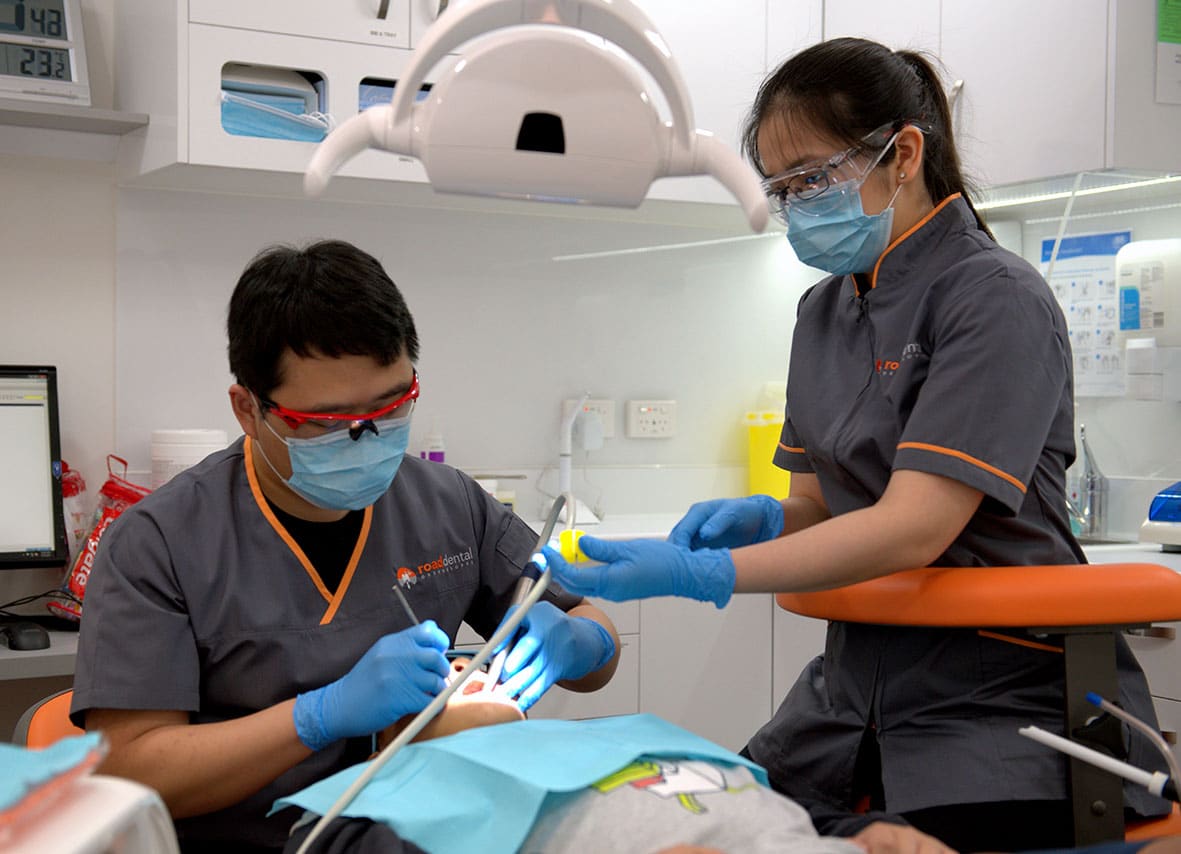 Emergency dental treatment – open six days a week, with after-hours visits available via appointment. We also keep allocated time slots open every day solely for dental emergencies.
Routine check-ups – recommended every six months, a routine check-up allows you to be on top of your oral health and allows us to pick up any issues early before they cause too much damage.
Teeth cleaning – along with your routine check-up, having a dental clean every six months is recommended. Our dental team can help get rid of the plaque and tartar in those hard-to-reach places.
Fillings – one of the most common treatments, fillings help to restore cavities and allow you to continue your life without discomfort. Our experienced team will talk you through the process and decide on the best filling type depending on your needs.
Tooth extraction – when we cannot save a tooth, it needs to be removed to preserve the health of your other teeth. We know that this can be a stressful treatment, however, our friendly team will help to put your mind at ease.
Children's dental services – get your children used to the dentist while young, and give them the best start to life with great oral health.
In addition to these treatments, our experienced team can assist with making correctly fitted, customised mouth guards for sport, Occlusal splints, and teeth whitening.
Affordable Dental Clinic in Brisbane
We understand that many people put off going to the dentist due to the cost involved, as well as the time involved. Our friendly reception team can provide you with an estimated cost over the phone for your appointment and can also advise you on an estimated length of your appointment allowing you to plan your day around your appointment here with us.
With over 15 years of experience, you'll be in great hands with Dr Robert Budiyono and Dr Adrian Budiyono. We aim to make your visit to our dental clinic comfortable, and relaxing, minimising any stress or anxiety before your appointment. Our friendly team welcome any questions you have about your treatment.
If you're looking for a dental clinic in Brisbane near you, Road Dental would love to help. Contact us today to make an appointment.